The Legacy of Cabanatuan
The rescue of 511 American and Allied prisoners from a Japanese held POW compound near Cabanatuan in the Philippines by elements of the 6th Ranger Battalion, reinforced by Alamo Scouts and Filipino guerrillas, was the most complex operation that Rangers conducted during World War II. This was the second such raid for the Scouts
It was also one of the most successful.
The 6th Ranger Battalion had its roots in the 98th Field Artillery Battalion. The 98th was activated at Ft. Lewis, Washington, in January 1941, and subsequently served in New Guinea. In April 1944, it was at Port Moresby as part of Sixth Army.
In late 1943, Lieutenant General Walter Krueger, who had recently become commanding general of Sixth Army, created the elite force that he named; Alamo Scouts.
The Scouts were loosely patterned after the Navy's frogmen and conducted reconnaissance and other special missions behind enemy lines in teams usually composed of one officer and six enlisted men. They were extremely successful and within nine months won nineteen Silver Stars, eighteen Bronze Stars, and four Soldier's Medals without suffering any losses. Krueger was so favorably impressed with the scouts' effectiveness that he decided to create a bigger force to do on a large scale what the scouts had done on a small one. The new unit would be created from the 98th Field Artillery Battalion.
Krueger selected Lieutenant Colonel Henry A. Mucci, an aggressive 1936 West Point graduate, to lead the soon-to-be-formed battalion. Mucci arrived in Port Moresby to assume command of the 98th in April 1944, and on 25 September, the unit was redesignated the US 6th Ranger Infantry Battalion. In the interim, Mucci put the men through a strenuous training program very similar to that which Darby's Rangers had undergone. He also encouraged all men who did not want to be Rangers to transfer to other units so the battalion would be manned exclusively by volunteers. (1)
Alamo
Scouts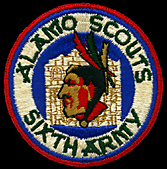 Silent Warriors
The Alamo Scouts were organized on Fergusson Island, New Guinea, on 28 November 1943 to conduct behind the lines reconnaissance and raider work in the Southwest Pacific Theater under the personal command of then Lt. General Walter Krueger, Commanding General, Sixth U.S. Army.
Named for his association with San Antonio, Texas, and love of the Alamo heritage, Krueger envisioned that the Alamo Scouts, consisting of small teams of highly trained volunteers, would operate deep behind enemy lines to provide intelligence-gathering and tactical reconnaissance in advance of Sixth U.S. Army landing operations.
From their first operational mission in the Admiralty Islands in February, 1944, to the end of World War II, the Alamo Scouts performed 106 known missions behind enemy lines in New Guinea and in the Philippines without losing a single man killed or captured.
Visit the
Alamo Scouts
On-Line